Sharing: The University of Melbourne By Catriona May
As Melbourne faces a growing housing crisis, pockets of innovation are offering some people a leg up out of social housing and into home ownership
By Catriona May, University of Melbourne
As Australia heads into winter, Melbourne's streets become unwelcoming; cold, dark, wet and, often, empty, as many of us stay indoors where it's warm.
But for a growing number of people, going home to a warm house isn't an option, as unaffordable housing, limited crisis accommodation and an overflowing public housing waiting list combine to trap people on the streets.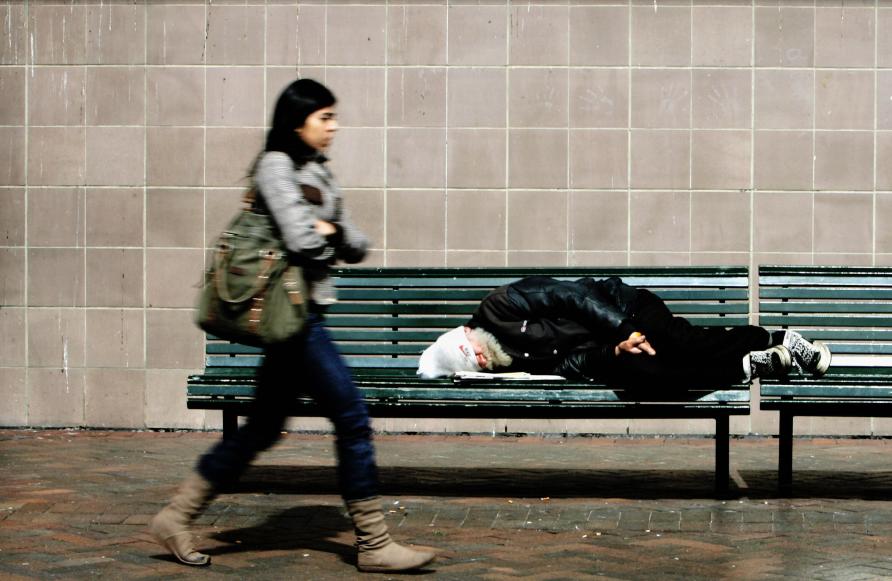 "We have seen a drastic increase in the number of people sleeping rough in Melbourne in recent years," says Dr Kate Raynor, a research fellow at the University of Melbourne. "We need to be considering all our options to address this crisis."
While the problem is large and complicated, one solution that could help ease homelessness is supporting public housing tenants to move into private home ownership – creating more space in public housing for those on what's become a lengthy waiting list.
Over the last six years or so, Melbourne's CBD has lost 550 rooms in boarding houses, often the last resort for people facing homelessness. Meanwhile, the waiting list for public housing has blown out to 40,000 people.
"We're facing a major crisis where some of our most vulnerable people – domestic violence survivors, children who can't live at home any more or people with mental health issues – are falling through the cracks," says Dr Raynor.
"What we really need is a massive expansion of public housing, but in the interim the private sector has a role to play to help lift people into better circumstances."
The Melbourne Apartment Project (MAP) is one scheme helping create space in public housing by encouraging and helping people to buy their own homes. It started small, with a private developer building a 34-apartment block in North Melbourne, 28 of which were sold to social housing tenants, and the remaining six sold at a market rate to cross-subsidise costs.
It's a scalable model that has the potential to support many more people in years to come.
"The MAP creates tangible, feasible exits out of public housing, which are important," says Dr Raynor, who recently completed an evaluation of the project.
"And although it's small at the moment, it's replicable, and could be adopted by a community-housing provider in time. Because it doesn't need the same level of subsidy as many community housing projects do, it's financially more viable than other models of social housing."
The MAP model, which is supported by Melbourne City Mission and City of Melbourne, is similar to Toronto's Options for Homes scheme, which has created 6,000 homeownership units over the past 20 years.
Social housing tenants have purchased two or three-bedroom apartments on a 'deferred second mortgage' model, which means purchasers initially only need to cover the cost of development (about 63 per cent of total market value) through a deposit and standard bank loan.
The remaining 37 per cent is the 'second mortgage' – an interest-free amount that isn't repayable to the charity until the purchaser sells their apartment.
To qualify for the scheme, purchasers have to currently live in social housing, prove they had sufficient income from a job or assets to cover the loan repayments, and have a minimum deposit of A$25,000. Families are also prioritised as part of the recruitment process.
Dr Raynor found the project has been overwhelmingly positive for those involved.
"I had wonderful conversations with people who had moved into their new homes," she says.
"It's offered a massive psychological benefit, with residents reporting feeling more relaxed, and safer. And, of course, they had all the feelings that generally come with home ownership, like achievement and the satisfaction of creating wealth."
Dr Raynor says one downside of the scheme is that the financial support is only offered one time – sales thereafter are at typical market rates.
"There's no affordability in perpetuity for that apartment," she says. "So, someone could move in there and get the benefit of the deferred second mortgage, and then sell it at a market rate.
"However, that said, the second mortgage is then channelled directly back into the charity to fund more MAP-style projects and crisis accommodation, creating a pipeline of vitally important housing options."
But Dr Raynor cautions that projects like MAP, while positive, will never be the entire solution to Melbourne's housing crisis.
She points out that the overall percentage of public housing stock in Australia has shrunk from around eight per cent in the 1960s to just 3.5 per cent today. This compares to some European countries like the Netherlands and England, where about 35 per cent and 18 per cent of housing stock is social housing respectively.
"In Australia social housing has become more and more targeted at vulnerable people because it's now a really scarce resource. It means a lot of really serious disadvantage and vulnerability is becoming concentrated in one place."
The solution, she says, must include an expansion of social housing – that is, public housing provided by government, and social housing provided by not-for-profit housing associations.
Although Dr Raynor welcomes steps taken by the Victorian Government towards this, including the Social Housing Growth Fund and recent changes to the Planning and Environment Act that support local councils to negotiate with developers to make affordable housing contributions – she says more needs to be done.
"It's clear that addressing Melbourne's housing crisis is going to take some serious investment, as well as considerable political good will," she says. "And while some of the steps we've seen recently are really positive, we need more action, and soon.
"There are simply too many people sleeping on Melbourne's streets, and in precarious accommodation. We need to consider whether we are comfortable continuing to let people who need our help, slide into homelessness."
On Thursday 21 June, 2018 the St Vincent De Paul Society will be holding its national CEO Sleepout 2018 to raise awareness and funds for homelessness. The University of Melbourne is partnering with St Vincent's, providing the historic South Lawn Carpark as a venue. The University's Head of University Services, Paul Duldig, will be joining other executives sleeping rough.
Banner: Getty Images